Blog
Account-Based Marketing: Get to Know Your Target
Imagine knowing what a prospect needs, why they need it, and when they will be ready to buy.
Imagine walking into a prospect's office knowing what solution they need, why they need it, and when they will be ready to buy. Imagine that, with this information, you have an open, intelligent dialogue about why your solution is the ideal fit – with the person who will actually make the purchasing decision. And, imagine that you are not only armed with the knowledge that makes you stand out among your competitors but that you know that your efforts are focused exactly on accounts with real opportunities. Now imagine having this insight into every prospect in your universe, and the impact that would have on you beating your goals.
While many organizations may be investing in account-based marketing (ABM) for top-named accounts, most are still relying on a "one size fits all" sales and marketing approach for the bulk of their prospect universe – performing outreach to companies in a given market as if they were all the same, with lackluster results. We're getting into critical deals too late in the process. We're losing market share in key verticals. We're wasting time talking to tire kickers.
The reality is that many companies continue to market by vertical, demographic, or company size – making assumptions that what matters to one organization also matters to the other 100, 500, or 1,000 companies on their target list. For example, while all financial services organizations are concerned about compliance, a generic compliance campaign pushed out to the masses likely won't get you the opportunities you need. A differentiated message that references business drivers and pain points specific to your targets will yield much more impressive results.
What's needed is actionable insight – an understanding of what's truly going on within organizations so that you can prioritize your outreach account by account, stand out among competitors, and ultimately close more business. Your resources are too precious and your market is too competitive to operate otherwise.
Account-based marketing: Targeting prospects as unique markets to gain intelligence about specific accounts, prioritize sales and marketing outreach, increase close rates, and boost revenue.
Each Prospect is Unique
Technology buyers have high expectations for their potential vendors and partners. They expect that you've done your homework – that you know their business and their pain points, and that you have a viable solution to their pressing needs. Walking in the door with a "one to many" message – and hoping the selling points resonate – puts you on the fast track to jeopardize the deal.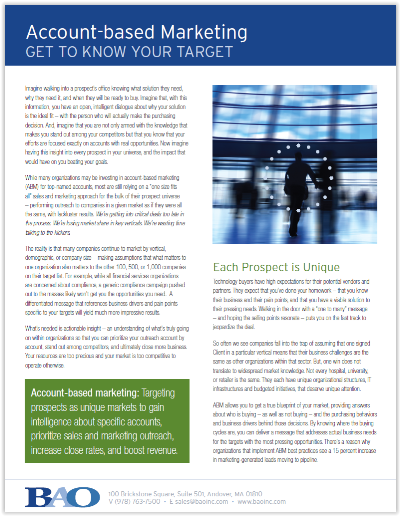 So often we see companies fall into the trap of assuming that one signed Client in a particular vertical means that their business challenges are the same as other organizations within that sector. But, one win does not translate to widespread market knowledge. Not every hospital, university, or retailer is the same. They each have unique organizational structures, IT infrastructures and budgeted initiatives, that deserve unique attention.
ABM allows you to get a true blueprint of your market, providing answers about who is buying – as well as not buying – and the purchasing behaviors and business drivers behind those decisions. By knowing where the buying cycles are, you can deliver a message that addresses actual business needs for the targets with the most pressing opportunities. There's a reason why organizations that implement ABM best practices see a 15 percent increase in marketing-generated leads moving to pipeline.
Identify, Segment, Attack
If you're ready to fill your pipeline with real opportunities that can be closed now, BAO can help. We work with high-tech and services companies every day to gain an in-depth understanding of their markets to help them prepare and prioritize – before they engage. The bottom line: we help you identify the right targets, segment accounts with immediate opportunities, and attack those with active initiatives. It's all about harnessing the power of your prospects' needs in order to
better define and conquer your market.
Advanced Demand Generation
Map your market, then attack it. Know which organizations have active purchasing plans, how to target each and with which message, and quickly gain face time with the right people. Knowing that a prospect is ready to buy is worth nothing unless you quickly get in front of the buyer, before your competition. As BAO uncovers immediate opportunities, we take it to the next level, aligning that time-sensitive insight with immediate action – scheduling in-person meetings so that you don't lose time turning potential deals into pipeline.
Opportunity Identification
Get real-time visibility into active buying cycles. Leverage BAO's proven expertise, extensive contact database, and trained personnel to find out who's buying, what they're buying, and when. With that intelligence in hand, you can prioritize sales and marketing efforts on the companies with the most substantial – and immediate – opportunities.
Ready to boost your sales and marketing results?
Speak with a pipeline expert to build a program that meets your needs.