Blog
Meet Dave Losier, ISR Extraordinaire and BAO Record Setter
6,000 meetings and counting.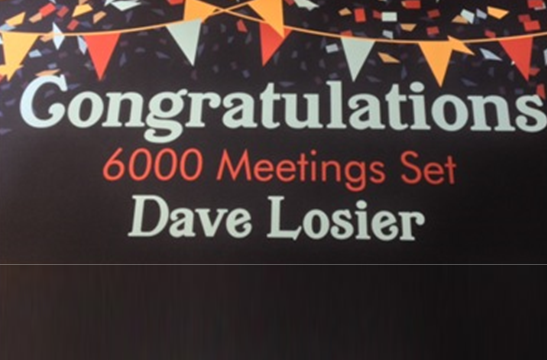 Dave Losier has reached a major appointment setting milestone – he's our first ISR to hit the 6,000-meeting mark. We threw a celebration in the office (complete with a confetti cannon!) and we wanted to celebrate Dave's success with our Clients as well.

How does he do it? What keeps him going? Read on…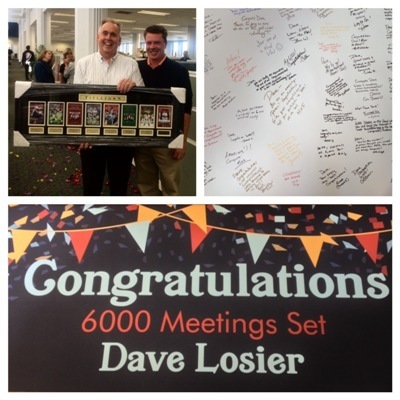 How many meetings have you booked to date?
6,015
What's your favorite market to call into?
Federal – it can be a tough market, but once you have the years of experience in navigating the space, following contacts from one agency to the next, and learning to speak their language, it's a lot less scary. I've built some really good relationships with prospects and it's served me very well.
Tell us about your all-time favorite meeting(s).
There are two that really stand out. The first was years ago. I called a colonel in the Air Force – I got him on the phone, but he was busy. I asked if he'd be in the following day. He said, "Yes, call me first thing in the morning." I replied, "Sure, how's 8 a.m.?" And he said, "No. 6 a.m." I wasn't about to lose the appointment, so bright and early the next day, I dialed him from home at 6:10 a.m. He picked up the phone and the first thing he said is, "Dave, you're late." But I got the meeting and the Client was happy!

The second is from just a few weeks ago. There was a contact on my list with a last name I recognized from Major League Baseball. I thought that would serve as a good icebreaker. But the name also sounded familiar to me for other reasons, and it was then that I realized that I'd spoken to him about a year ago for the same Client. I dialed him and introduced myself – and, what do you know, he instantly remembered me! We chatted for a while about baseball – since we'd established last year that we're both fans – and then I booked the meeting. It was really satisfying to know that our conversation made an impact on him and left him with a positive impression of me – and my Client.
What changes have you seen – in the job, in the market – over the last 13 years?
A lot has changed since I started. Our Client base has grown exponentially, so we have more opportunities to work with the top organizations in the industry, which is a great experience.

There is also a lot more competition for prospects' attention – they constantly have people calling, emailing and it's up to us to keep finding new ways to get in front of them. When I call a prospect, it's my job to quickly make a connection, so I approach each call as an opportunity to break the boredom of the constant calls. Whether we chat about sports or current events, I want the prospect to enjoy the conversation.

Getting a prospect's attention has definitely gotten more competitive, but BAO is ahead of it. As the market evolves, the company is there to make sure that we're armed with ways to be more smarter, better, sharper and faster.
What's the secret to your success?
Being myself and being confident in myself. I know my strengths – I'm a salesman at heart. I'm friendly. I like to talk and connect with people. This can be a tough job. And we get a lot of training on best practices and techniques. But I've found that if you take that knowledge and make it your own – apply it in a way that fits your personality and style – you'll be far more successful. I've been doing this for 13 years and I'm still really good at what I do. I attribute that to staying true to myself.
What motivates you?
I still get a charge when I book a meeting. And I love working here. BAO is my family – literally and figuratively. My wife, Cheryl, also works here, so we get to spend a lot of time together. I'm very grateful for that. I've also had the opportunity to make really good friends here. The camaraderie and team spirit here are really important to me – it's what keeps me going.
What's Next?
Well, I've been chasing that 6,000 number for a while. Now, I'd like to play some golf.
Ready to boost your sales and marketing results?
Speak with a pipeline expert to build a program that meets your needs.