Trend Reports
The 2023 B2B Technology Sales Climate
Sales leaders' perspectives on the biggest revenue challenges they're facing right now.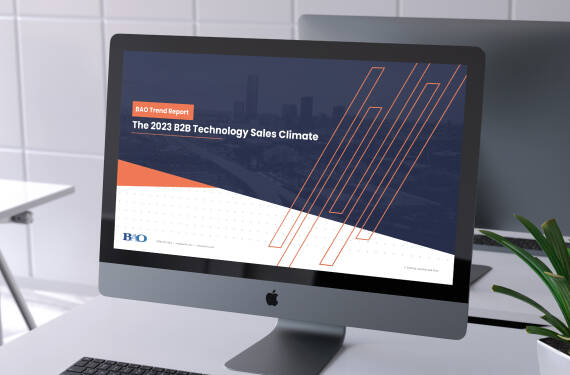 How are sales leaders navigating the 2023 sales environment?
Our recent survey of 153 B2B technology sales leaders uncovers attitudes about and plans for navigating the current sales environment.
62% of sales leaders are not optimistic about the economic climate in 2023.
Learn about the changes in revenue targets, sales cycles, and pipeline expectations your peers are anticipating.

The #1 concern is reduced budgets in prospect companies.
But that's not all — see what other factors are keeping sales leaders up at night.

68% of sales leaders are confident in their team's abilities to hit goal.
Great news, right? Except that's not the whole story, because 61% also say they're having to do more with fewer resources.

The BAO Tend Report: The 2023 B2B Technology Sales Climate
presents the complete findings of the study, as well as strategies to help sales teams hit their number, even under challenging conditions.
Download the BAO Trend Report: The 2023 B2B Technology Sales Climate