Guides and White Papers
How to Integrate Your BAO Appointment Setting Program into Salesforce.com
BAO is able to upload secured appointments as leads into your org's Salesforce.com instance.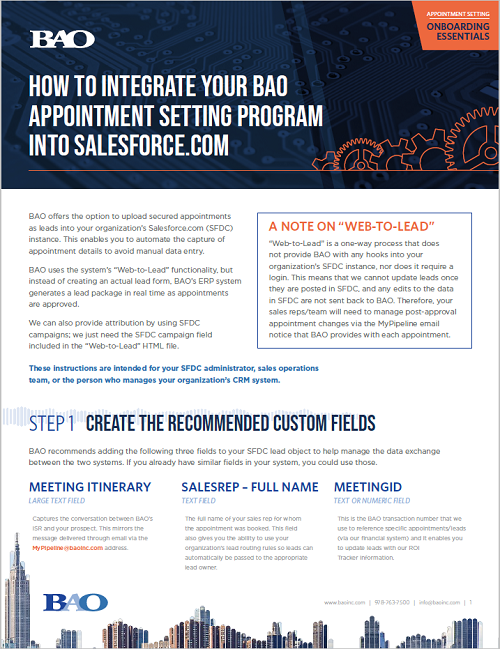 Upload Secured Appointments to SFDC
BAO offers the option to upload secured appointments as leads into your organization's Salesforce.com (SFDC) instance. This enables you to automate the capture of appointment details to avoid manual data entry.
BAO uses the system's "Web-to-Lead" functionality, but instead of creating an actual lead form, BAO's ERP system generates a lead package in real time as appointments are approved.
We can also provide attribution by using SFDC campaigns; we just need the SFDC campaign field included in the "Web-to-Lead" HTML file.
NOTE:
These instructions are intended for your SFDC administrator, sales operations team, or the person who manages your organization's CRM system.
Step 1:
Create the recommended custom fields
BAO recommends adding the following three fields to your SFDC lead object to help manage the data exchange between the two systems. If you already have similar fields in your system, you could use those.
Step 2:
Generate the "Web-to-Lead" HTML file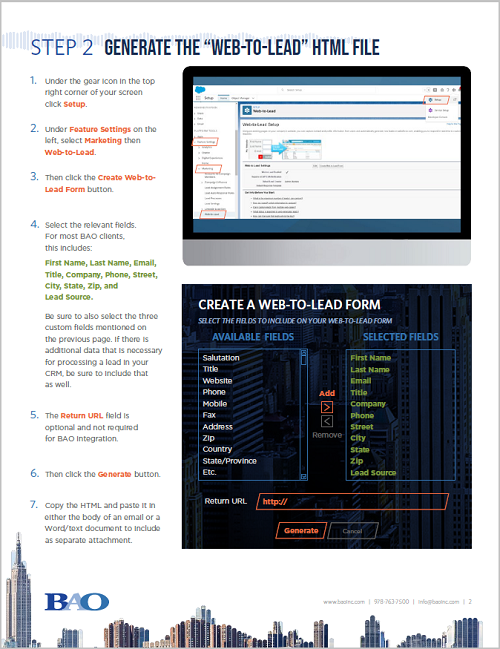 Step 3:
Get the SFDC Campaign ID (optional)
If you are using a SFDC campaign for attribution, we need the campaign ID. First, you need to create the campaign that you would like to use. Once created, navigate to that campaign in SDFC.

In the URL, you'll see a string of 15 numbers and letters that begin with 701 — this is the campaign ID.
You can send us either the campaign ID or the full URL for the campaign record.
Step 4:
Send the "Web-to-Lead" HTML file to BAO
Email the "Web-to-Lead" file, along with the SFDC campaign ID if using, to lbearse@baoinc.com either as an attachment or within the body of an email.
Step 5:
Confirm the integration
Once we receive the "Web-to-Lead" HTML file, BAO will create the integration. When setup is complete, we will contact you to confirm acceptance, which is simply a control post of one appointment so you can validate that the data that is being passed correctly. If there are any appointments not in your system, we'll coordinate the effort to match and send missing appointments.