Service Overviews
Target List Creation: An Overview of Market Segments
Target lists can be created for your appointment setting program based on select criteria.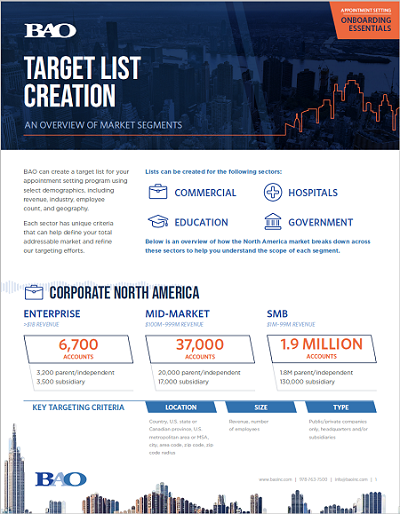 Target List Creation for Appointment Setting
BAO can create a target list for your appointment setting program using select demographics, including revenue, industry, employee count, and geography.
Lists can be created for the following sectors:
Each sector has unique criteria that can help define your total addressable market and refine our targeting efforts.
Here is an overview of how the North America market breaks down across these sectors to help you understand the scope of each segment.
ENTERPRISE - >$1B Revenue
6,700 Accounts - -3,200 parent/independent, 3,500 subsidiary
MID-MARKET - $100M–999M Revenue
37,000 Accounts - -20,000 parent/independent, 17,000 subsidiary
1.9 Million Accounts -- 1.8M parent/independent, 130,000 subsidiary