Blog
BAO Client, O.C. Tanner, Featured in ABM in Action
We always enjoy celebrating our clients' successes.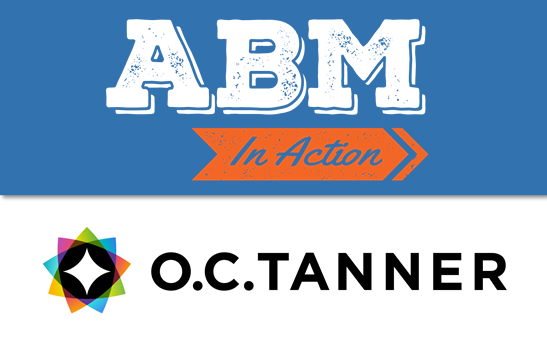 "The account-level intelligence we got from BAO helped us to get very, very granular in targeting our prospects. We were able to determine what would resonate on an individual level and what we'd need to do to move specific prospects along."
- BAO Client Ty Nilson, O.C. Tanner
In 2016, we enjoyed helping many Clients with their ABM programs. Our Opportunity Identification (OppID) service provides the customized account intelligence Clients need to select the right targets for their ABM campaigns, an enormous critical success factor.
We always enjoy celebrating our Clients' successes, and we are very excited about a recent article in a new ABM publication highlighting one of our Client's successful programs. O.C. Tanner's ABM strategy was featured in the November 2016 issue of "ABM in Action," a new monthly publication focused on ABM.
Below are highlights from the "ABM in Action" piece, as well as more details about O.C. Tanner's ABM strategy, that has generated $2 million in new business!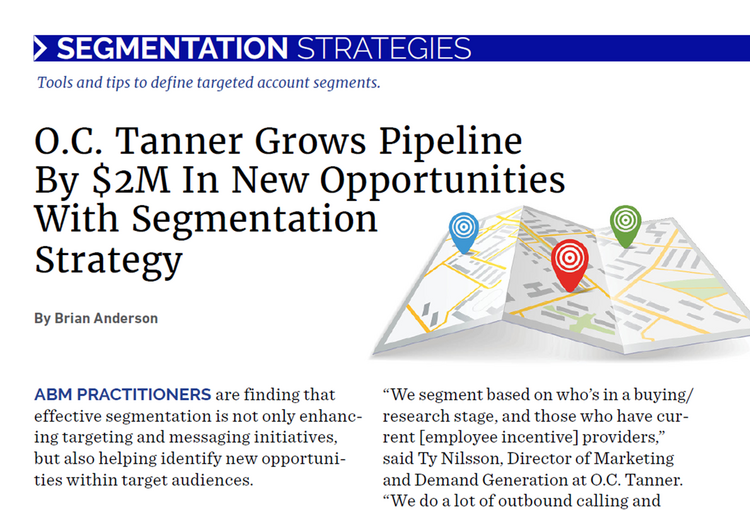 Account-Specific Insights Drive ABM, Segmentation Success
Recognizing the importance account selection plays in successful ABM programs, O.C. Tanner partnered with BAO to determine who their best prospects were based on very custom trigger events.

"We segment based on who's in a buying/research stage, and those who have current [employee incentive] providers," said Ty Nilsson, Director of Marketing and Demand Generation at O. C. Tanner.
Instead of basic demographics, O.C. Tanner places accounts into three segments built around account insights that matter to them:
Bullseye Segment: includes companies with strategic HR initiatives in the next year.
Displacement Segment: includes organizations dissatisfied with their current HR rewards vendors.
Greenfield Segment: includes accounts with no solution in place.
According to the "ABM in Action" article, "early success highlighted the segmentation strategy's value." Initial appointments with accounts in the Bullseye segment resulted in four requests for proposals (RFPs), and three won deals valued at $2 million — which was 20% of the company's revenue growth.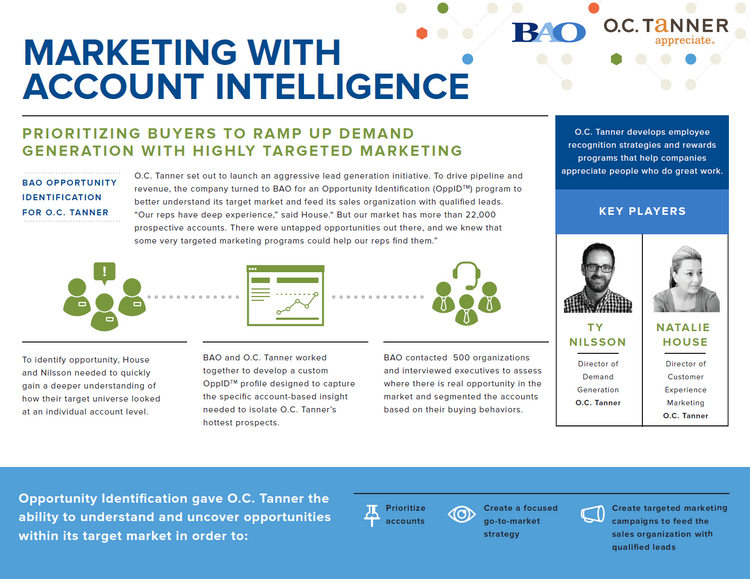 Insights for ABM Messaging and Execution
O.C. Tanner quickly realized that account-based insights have value beyond account selection and segmentation. Soon they were successfully leveraging ABM insights to create highly targeted ABM campaigns. According to Nilsson, his team "segments based on matching our product mix to current customers," which allows the company to "send messages that are super targeted to meet target [accounts'] needs."

For O.C. Tanner these campaigns integrated direct-mail and digital marketing touches along with outbound calling aligned to each segment.
Ready to boost your sales and marketing results?
Speak with a pipeline expert to build a program that meets your needs.