Blog
BAO Knows Fortune's Fastest-Growing BYOD/Mobility Buyers
We know who they are—and their pains and challenges, technology environments, and buying cycles.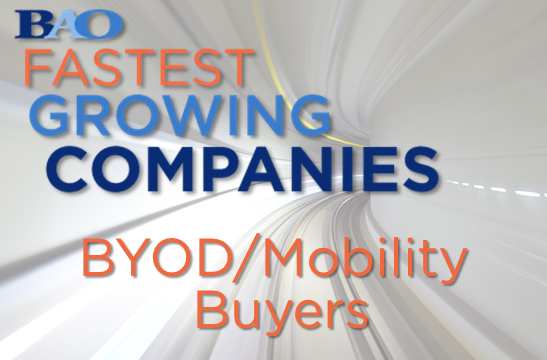 High-growth companies are great sales targets for technology vendors. In high-growth scenarios, expansion often outpaces existing IT infrastructure and legacy systems could be breaking along the way. They often have pent-up demand for new solutions as they work to catch up to their growth. These companies may not have the marquee name value of some of your target named accounts, but they are hot prospects and they should be in your sights. But where can you find these companies?
Fortune has done some of the legwork by identifying the 100 Fastest-Growing Companies with their "annual list of public companies with the most stellar three-year profit, revenue, and stock growth."
And, of course, BAO provides the account-level intelligence that gives you the insight you need to zero in on the initiatives that are relevant to your solution, connect with the right buyers, and position your offering for the close.
This is part one of a three-part series that focuses on companies on the Fortune Fastest Growing list and adds a deeper level of insight. Today, we're taking a look at three high-growth companies who are reviewing vendors and solutions for active mobility/BYOD initiatives. So if you're in that space, listen up.
Are you already a BAO Appointment Setting Client? Click here to send us a note and we will get you a meeting with these high-growth companies!
This paper and packaging manufacturer based in Norcross, Georgia, was founded in 1936. They have an annual IT budget of over $50 million. They primarily work with Insight and, in addition to mobility/BYOD, they are also planning/researching cloud.
Hain Celestial Group food and personal care products manufacturer may be best known for Sleepytime herbal tea, but this company certainly isn't napping. The Lake Success, New York, company currently has a budgeted initiative formobility/BYOD in addition to an IT budget the is increasing by 10% over the coming year. And in addition to procuring solutions directly from the manufacturer/OEM, they also buy from PC Connection.

The Connecticut-based travel e-commerce company has an IT budget that will grow 10% in the next twelve months and they have a large number of active initiatives in addition to mobility/BYOD – including big data, cloud computing, unified communication, data center overhaul, and network management. The company works with several VAR/IT partners, including CDW, Insight, and PC Connection.
If you're interested in getting additional actionable intel on any of these companies, let us know. Next time, we'll highlight fast growing companies with active storage initiatives. And then we'll examine high-growth organizations and their cloud plans.
Ready to boost your sales and marketing results?
Speak with a pipeline expert to build a program that meets your needs.