Blog
BAO Knows Fortune's Fastest-Growing Storage Buyers
We know who they are—and their pains and challenges, technology environments, and buying cycles.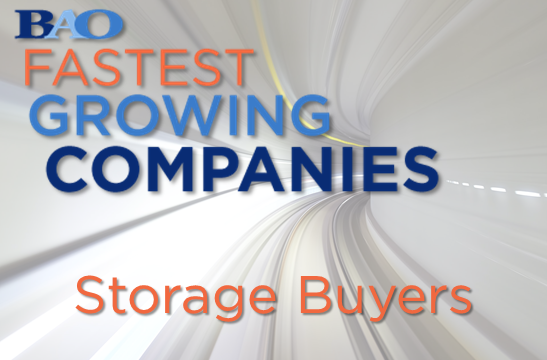 In the first post in this series, we looked at three of Fortune's Fastest-growing Companies who are in the market for mobility/BYOD solutions. Today, we're going to dive into four companies from the same 100 Fastest-Growing Companiesannual list of public companies with the most stellar three-year profit, revenue, and stock growth."

This time, we're looking at high-growth companies who are in an active buying cycle for storage solutions.
If you're already a BAO Appointment Setting Client? Click here to send us a note and we will get you a meeting with these high-growth companies!



Through its subsidiaries, AmTrust operates as a multinational property and casualty insurance company. The size of their storage and backup environment is in the 501 TB to 1 PB range. Their annual IT budget, currently in the $1 million to $5 million range, will be increasing up to 25% in the next year and they are focusing their technology investments on archiving, backup and recovery, as well as data deduplication.




This Florida-based company provides construction and specialty services to the telecommunications industry. The company is planning to increase its annual $6 million to $10 million IT budget up to 25% over the next twelve months and its storage and backup environment manages 501 TB to 1 PB of data. In addition to an active disaster recovery initiative, the company is also reviewing vendors and solutions for big data and is in the discovery/planning phase for a CRM initiative. The company primarily purchases technology through SHI.




This fast-growing software company may not be increasing its $11 million to $25 million IT budget, but it has a number of active initiatives to support its 501 TB to 1 PB storage and backup environment, including data center consolidation/optimization; archiving, backup and recovery; and data deduplication. The company is also in the discovery/planning phase of an application performance management project. The company tends to procure technology solutions from CDW and Insight.




The Houston-based company may have a smaller storage and backup environment (50-100 TB) and IT budget ($1 million to $5 million) than the other companies profiled here, but that doesn't mean it's not a hot prospect. In fact, in addition to active data center consolidation/optimization and disaster recovery initiatives, the company also has security/end-point protection, big data, and cloud projects in the works. The company works with several VAR/IT partners, including CDW, SHI and they also purchase direct.
Ready to boost your sales and marketing results?
Speak with a pipeline expert to build a program that meets your needs.