Trend Reports
BAO Trend Report: BI + Analytics
BAO conducted a study of 489 upper MM orgs to understand tech adoption and purchasing trends.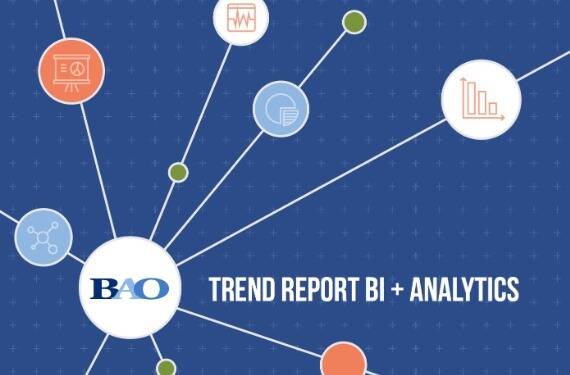 According to Gartner's 2017 Magic Quadrant for Business Intelligence & Analytics Platforms
"By 2020, organizations that offer users access to a curated catalog of internal and external data will realize twice the business value from analytics investments than those that do not."
And while much of the noise about BI and analytics often centers on large enterprises, it's the upper mid-market (2,877 companies with $500-$999M in revenues) that comprises the vast majority of the market – and represents huge opportunity for BI vendors.

That's why BAO recently conducted a research study of 489 upper mid-market organizations to better understand what the BI + analytics market looks like within these companies.

The BAO BI + Analytics Trend Report presents the complete findings of the study, and delivers actionable insights, including:
Where the opportunities in the mid-market are as well as who's involved in the decision-making process
The timing of organizations' last BI upgrade or renewal and its impact on satisfaction
A look at who is utilizing BI + analytics within orgs and how use varies by role
The biggest BI challenges organizations are currently facing
Among the key trends we uncovered:
27% of Organizations
in the upper mid-market are actively buying BI + analytics solutions.
The majority
of companies involve IT (73%) and Finance (69%) in the BI decision-making process.
Transportation / Logistics
checks in as the hottest industry for active initiatives.
15% of Respondents
(surprisingly) still rely exclusively on Excel for reporting.
Ready to boost your sales and marketing results?
Speak with a pipeline expert to build a program that meets your needs.