Blog
Foundation-Building for Fast-Growing Teams
How to build a strong sales and marketing foundation at hyper speed.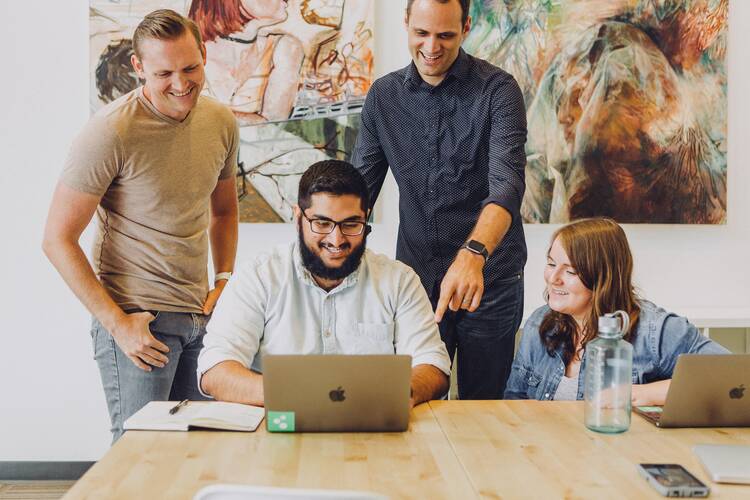 In my last post, I talked about why building a scalable foundation is critical for hyper-growth companies. But I also understand that when your company, your market and your team are going at breakneck speed, it's tempting to just do what works in the moment to achieve short-term goals. The problem is, that can't scale – and it's going to hold your company back from the kind of growth it's truly capable of achieving.

So how do you begin to build a strong sales and marketing foundation even when things are moving at hyper speed? Based on what I've seen and heard in working with some of today's fastest-growing companies, I have some advice.
Be Realistic About Where You Need Support (and how long you'll need it)
Often, when we first engage with fast-growing companies, we hear, "We're building our inside team and we just need BAO to bridge the gap for three months." But the company is moving so fast – what they didn't realize is that while they were hiring five new reps, seven of the old reps would leave. So they come back and say, "Ok, we need you longer…"
It's easy to put "headcount" down on a spreadsheet and assign it a number – but that's not realistic because, in practice, it's not that simple. Companies need to look ahead and assess their needs beyond the next few quarters. And bringing in a partner like BAO – one that can scale up or down, help avoid fixed costs and doesn't require a huge investment in training, etc. – can help eliminate some of that uncertainty.
Understand Who You're Hiring – and Why
"Inside sales" isn't a single discipline – and it shouldn't be treated as one position. When you're hiring an inside rep, you need to understand what you need that person to be: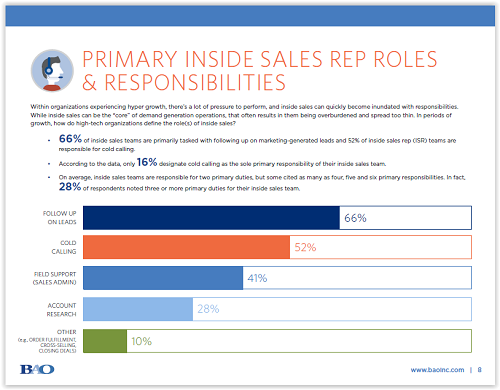 A lead-catcher
A prospector
A quota carrier
Or serve as support for one or a couple of outside reps
If these functions aren't broken up, what you'll lose is the cold calling – and a focus on longer-term pipeline generation. If they're juggling goals, these reps are likely to prioritize working deals and pushing current customers for upgrades instead of calling into a big enterprise organization for the 500th time to dig up opportunity.

Competition for inside reps is very high right now, especially in hot markets like Boston and Silicon Valley. (Frankly, it seems like the supply/demand curve is out of whack – fresh-out-of-school reps are demanding $125K salaries or 30,000 shares of stock!) In any case, these can be expensive hires – so you should make sure that there's a plan for them and that they're focused on the right mission. This will help you figure out what you really need. And when you take a hard look, I expect you'll find that you'll need experienced pros, not kids right out of college.
The bottom line: if you understand what your business needs, you can build the right team in line with your goals. What should your inside and outside teams look like – and what do they need to accomplish? And what functions or tasks can be outsourced so that you can keep those teams focused on achieving those goals?
I've worked with many fast-growing companies, and what remains consistent is that no company can do it all – but the most successful ones are those that are organized and have a good, realistic understanding of what they can and can't accomplish without some additional support.
Create Standard, Repeatable Workflows as Quickly as Possible
This one is especially challenging when you're growing fast – but you'll be happy you did it. Start building a framework for your business processes – including clear ownership, closed-loop practices and rules of engagement. Find out what works and implement it as a best practice going forward. Understand what doesn't work – and why. Then refine it until it does.

An added benefit is that it'll minimize emotional "blame game" outcomes that can crop up in high-energy, high-growth environments. Because the bigger, established companies you'll be going up against have proven processes that have been in place for years and years. But at new, fast-growing companies, there are great ideas being executed very quickly. And there's a lot of pressure to succeed. So if something falls short of goals and there's no clear ownership established, it's easy for folks to start pointing fingers.

Think about a lead generation campaign – marketing generates 500 white paper downloads and sends the list to sales. There's no "next step" process in place. And after a few weeks, no one really knows what happened to those leads. Sales blames marketing ("Why aren't these people calling us?") and marketing blames sales ("Why aren't you calling these people?"). If the process had been set out from the start – with clear owners, clear next steps and established follow-up plans – it would be easy to see where things broke down.

This is a huge investment in your business's long-term success – and it will have an impact on everything from profitability and productivity to morale and motivation.
Now, You've Got to Sell
Once your foundation is set, you have to build on it. That means identifying opportunity, filling the pipeline and closing business. In my next post, I'll have tried-and-true advice for getting in front of the decision-makers that matter. In the meantime, visit our Hyper Growth Resource Center– designed exclusively for sales and marketing teams at fast-growing companies that need to get up and running quickly, efficiently and intelligently.

And, as always, reach out if you want more information or just want to discuss more about what you're hearing and seeing out in the marketplace. It would be great to hear from you.
Ready to boost your sales and marketing results?
Speak with a pipeline expert to build a program that meets your needs.