Blog
BAO Knows Fortune's Fastest-Growing Cloud Buyers
We know who they are—and their pains and challenges, technology environments, and buying cycles.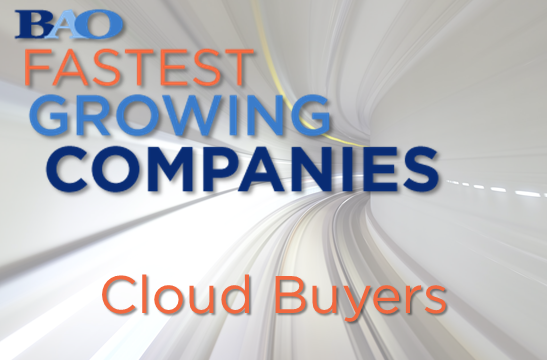 High-growth companies may not have the same "logo slide" cachet as Fortune 2000 enterprises, but make no mistake – they offer huge revenue potential. Fast-growing companies are investing in technology at a rapid pace to keep up with their growth. Fortune has identified the 100 fastest-growing companies, but you need more than just a list of organization names, and that's because selling to these organizations isn't the same as selling to the Fortune 2000. You need account-level intelligence to understand their pains and challenges, technology environments, and buying cycles.
In the first two articles in this series, we highlighted BYOD/mobility buyers and storage buyers. Today, we are closing out the series with a peek at some fast-growing cloud buyers.
If you're already a BAO Appointment Setting Client, click here to send us a note and we'll get you a meeting with these high-growth companies!


The Houston-based oil and gas company is a Fortune 500 company and is also on the Fortune Fastest-growing list, making it an exciting prospect for cloud solution vendors. Cloud is the focus of their current active initiatives and they buy direct from manufacturers/OEMs.
Another Houston-based oil and gas company is also in growth mode and investing in cloud solutions. They've got a sizeable annual IT budget – over $50 million– and they tend to procure technology from CDW and Insight.
Our third spotlight company is also headquartered in Houston, and while they aren't an oil and gas company, they are the largest tank barge operator in the U.S., transporting bulk liquid products, including petrochemicals, black oil, refined petroleum products, and agricultural chemical products. They have an annual IT budget in the $26 million to $50 million range and tend to purchase technology from CDW.
This California-based healthcare automation solutions company has an IT budget of $11 million to $25 million that will be decreasing up to 10% over the coming year, which may be why they are actively looking for cloud solutions to increase IT efficiency and reduce costs. They typically go directly to the manufacturer/OEM to purchase technology solutions.
Quanta Services is another Houston-based company, but this one provides outsourced construction, maintenance, and technology services for electric power, telecommunications, broadband cable, and gas pipeline industries. In addition to active cloud initiatives, the company is also currently looking at a data center overhaul. The company works with several VAR/IT partners, including CDW, Insight, Sirius Computer Solutions, Softchoice, SHI, and PC Connection.
Of course, BAO knows a lot more about each of these companies – valuable insight that can help you find the right buyers, navigate the purchasing process, and craft your pitch for a sales win. Want to learn more? Let's chat.
Ready to boost your sales and marketing results?
Speak with a pipeline expert to build a program that meets your needs.